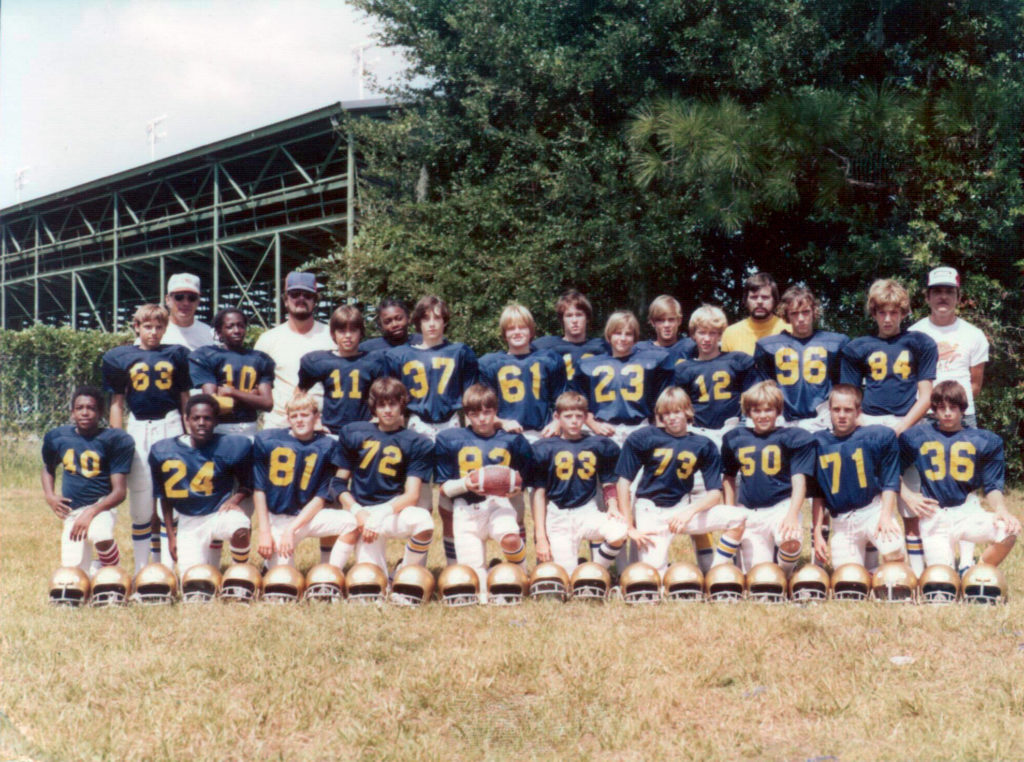 For me, in the early going of my life, I was very much aware of two facts: I had an older brother, and he was better than me in virtually every way. In our hometown of Greenville, Illinois, by the time I was about 12 and Scott was about 15, our great Aunt Lola summed us up like so: "Roger, you're a cry-baby, and Scott, you're a bully." By those ages, we both had been moved around a lot, and our parents had divorced, which gave us both some opportunities to explore life in some unique ways. That is to say, on our own, we were able to apply our own spins to the channels and activities available to us, which broke down to school, sports and home life.
In school, Scott held his own very well and was extremely popular, and in home life, we always had a lot of fun, even if Aunt Lola's description often applied from my point-of-view. But when it came to sports, Scott's abilities were truly extraordinary. This was evident from his unearthly talents on a diving board, to his dominant skills in baseball, basketball and football. At age 14 he played in a summer football league in St. Cloud, Florida, flourishing as the team's quarterback… a role he sustained after moving back to Greenville for high school, adding kicker and punter to his roles, and ultimately earning the coveted "letters" in football, baseball and basketball from his sophomore years onward.
When Scott was emerging as a football star at age 14, I and my best friends Randy Johnson and Tim Sklarek were going out for our own football team, and luckily for us, the coaching staff included Mr. Anthony "Tony" Gannarelli, who also was the father of our good friend and classmate Gray. In those days we rode our bikes to and from school, and we also had to carry our football gear. We boys were determined to give it our best shot, and for my part, those first intensive experiences playing football prepared me for the coaches and teams I would go on to play for in Illinois, Tennessee and other parts of Florida.
By that age, I'd also played a lot of baseball, and in St. Cloud's Little League community, Coach Gannarelli was the leader of the Kiwanis club, a perennial threat to the league championship. Whenever we played Kiwanis – which in that era had the coach's other son Johnny playing catcher – we usually lost. Coach Gannarelli's presence was large and fierce when you played his team… so having him as our football coach was daunting and exhilarating.
For our football squad, the coaching staff also included Dennis Knapp, among others. These coaches worked us hard in the dirt and grass of the open lot next to the Boys Club in downtown St. Cloud. Dog tired and dragging, we were sure to hear Coach Gannarelli's insistent "Chop chop gentleman!" pressing us to move faster. His passion and his enthusiasm were never in question, as each day he demonstrated to us exactly what commitment and all-out effort looked like.
It's worth noting that the Gannarelli name is famous in St. Cloud for people of all ages. Its high school football stadium is named in honor of Tom Gannarelli. I believe Tom – who coached the Bulldogs for 25 years, leading his team to four undefeated runs and numerous winning seasons, including several conference championships – was either Tony's uncle or a cousin. No doubt, Tom cast a large shadow in the area, and since his influence was felt throughout the community, I'm sure it was especially keen for everyone bearing his name.
With all of this in mind, many aging men who grew up in St. Cloud have been coached by a Gannarelli, but when I refer to the Coach,  I mean Tony. And this hard-driven, passionate and sometimes hot-tempered man saw something in me. My number in the above photo is 11, and in his mind, he seemed to think that like my brother, I had the makings of a quarterback. He watched me practice and give it my all day after day, and whatever he saw did not dissuade him from that vision. As I recall, I played some defensive secondary, but I also had quite a few chances to carry the ball. Coach Gannarelli also drew up a special play with me as QB. Meant for short yardage, I was to take the snap, drop back about two steps and throw the ball toward the 10 o'clock position. I remember practicing it and it not going that well, but Coach had a vision, and I was his soldier.
All I can remember about that team's actual schedule was one game that we suited up to play in at the Osceola County Cowboy Stadium, home to the Silver Spurs Rodeo and also the Osceola County Fair. That's where the above photo was taken. And in that game, I remember playing on the kick-off and receiving teams. But also, right before half-time, Coach called me over and let me know it was time to run my play. Gulp.
I remember running out and calling the huddle, then moving up behind the center. My heart was in my throat and I could not remember ever being so nervous. The opposing team was essentially comprised of giants, who formed an impenetrable wall which not only obscured my vision, their defensive line seemed to represent the outer limit of the earth, beyond which life ceased to exist. In short, I called the snap and took my two steps back. At that point, all I could see was a tidal wave of our opponents' colors, arms and helmets ready to crash over me. I got the ball away over the wave's crest – that is the only sense of direction I had over that "hurl" which could never be described by anyone as a "pass." Where did it land? I most certainly could never tell you, but happily, the whistle blew… it was incomplete, and the half was over. I picked myself up and ran back to the sideline, where most of the team had already run off the field, but Coach Gannarelli did await. "Good job Darnell, we gave it a shot. Let's go – chop chop!"
Coach passed away in 2014 at age 74. I will never forget the faith he showed in me, nor what it felt like to be part of his team. "Thank you for taking an interest in me and making a difference in my life, Coach! May you rest in peace."